From the mainland the Rail crossing is made from Villa San Giovanni Train station to Messina Marettima station, with the alternative of a Hydrofoil service from Reggio di Calabria if coming from further south.
The trains are actually loaded on and off purpose-built train ferries 5 times a day. These trains are advertised as "through services" between the mainland and Sicily and are all split into 2 sections for Palermo and Siracusa. There are 2 daytime Intercity (IC) services from Rome and 3 night trains called Intercity Notte (ICN) with 2 starting from Rome and one from Milan. If you are going in between these times you can take the regular Hydrofoil service from near both stations with a crossing time of 20 minutes and pay an extra 2.50 Euros. The Hydrofoil is run by Blujet – a subsidiary of Trenitalia. You will also need separate tickets for regional trains to/from Messina in Sicily and for any onward services to/from Villa San Giovanni.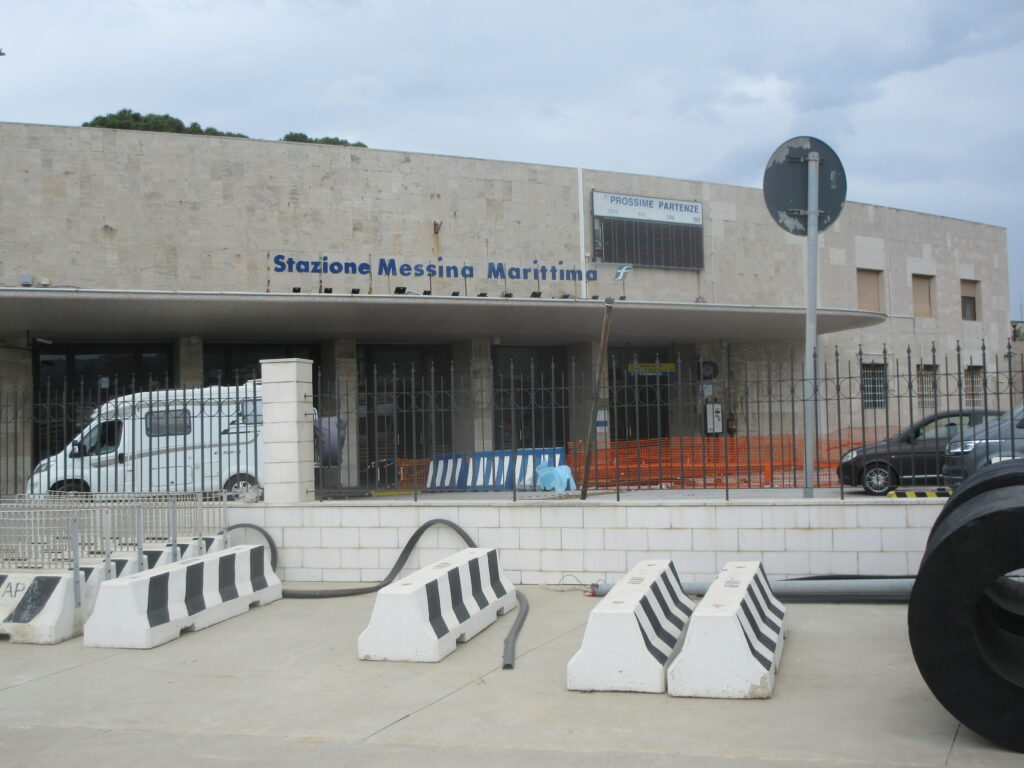 In May 2023, I was returning to the mainland from Cefalu on the north Sicilian coast during a period of very stormy weather. I planned to catch a regional train which should connect at Messina in time for the Hydrofoil to the mainland. Due to several obstructions on the track the delayed train arrived too late in Messina for my connecting Hydrofoil service. There was then absolutely no advice from Trenitalia (neither on the delayed train nor at Messina station) as to whether the Hydrofoil service was running or not. Having managed to change my Freccia Argento ticket for a later service. I then walked the 5 minutes to the Hydrofoil Terminal to find out that all the Hydrofoils that day were cancelled due to the poor weather. After a while several other passengers joined me, so we then asked if we could take one of the car ferries which leave nearby. We were told that foot passengers were not allowed onto the car ferries. After about 30 minutes a man in a blue jacket appeared and told us that he would return at 14.00 to take us onto "a ferry" but did not explain which ferry. He then disappeared and did not return at 14.00 until I found him near the train tracks. He told us that we could not leave until the train had gone onto the train ferry. He finally returned at 14.45 and led about 20 of us across several rail tracks and loose ballast onto the ramp where the trains enter the lower deck of the train ferry. The train ferries are designed only for rail passengers making the crossing by train and no longer have separate ramps for foot passengers, despite a massive empty terminal at Messina designed for this under Mussolini in the 1930s. After a difficult crossing and docking at Villa San Giovanni, we were then led out over the rails to the station. I managed to catch my re-booked train to Naples with 5 minutes to spare.
As Trenitalia run the trains, the train-ferries and the Hydrofoil there really is no excuse for treating passengers so badly at times of disruption due to bad weather.