by Trevor Garrod
In the first week of October I led a group of 13 British visitors to Belgium where colleagues from our sister organisation Vlaams Reizigersbond (Flemish Travellers' Association) helped us get the most out of three full days, based in Antwerp.
We gathered in a very busy St Pancras International station on the Monday morning, as part of a long queue, and our Eurostar was late in departing – but with our tickets to "any Belgian station" we had a smooth journey and easy interchange at Brussels Midi/Zuid, reaching Antwerp Centraal in mid afternoon. Everyone was impressed by this station, built as a terminus on a grand scale in 1905 and reconstructed in the first decade of the 21st century with additional through platforms, in tunnel. We were able to pick up free city maps at the tourist office on the station before heading for our hotel, ten minutes' walk away.
Tuesday saw us each purchasing three-day De Lijn tickets at 15 euro. These are very good value, since they give unlimited travel on all bus and tram services of De Lijn, the public transport operator owned by the Flemish government. For us this meant especially the urban networks of Antwerp and Ghent and the Coastal Tram from De Panne via Ostend to Knokke. It has an office at Antwerp's central station.
Our first day was spent in Ghent, the second largest city of Flanders, served by three trains every hour from Antwerp; and for those in the group who were senior citizens it only cost 7,50 Euros off-peak. Younger members were charged rather more! Ghent's main line station has been expanded in recent years and some building work is still going on. There are two tram routes into the city centre where we visited the gothic cathedral and St Nicholas' church, admired a cityscape of towers and gables, had a simple but tasty lunch in a cafe and then enjoyed a boat trip, with lively multilingual commentary, as the river- and canalside historic city opened up around us. We still had time for a further tram ride to a dockland area in the north of Ghent before gathering for a bus ride to a restaurant and a late night train back to Antwerp.
Day two was spent in Antwerp, with a walk through the city centre, visit to the cathedral and Rubens' house and for some of our group, time in the recently restored Royal Museum of Fine Arts (KMSKA). Others of us explored the tram network, including some underground sections in the city centre and a tunnel under the River Schelde as well as long lines, often on central reservations, to the outskirts of the city, and others in some narrow winding inner-city streets. Members were also fascinated by tram rides into the dockland area (originally planned by Napoleon when he occupied the city) and the regeneration being undertaken here.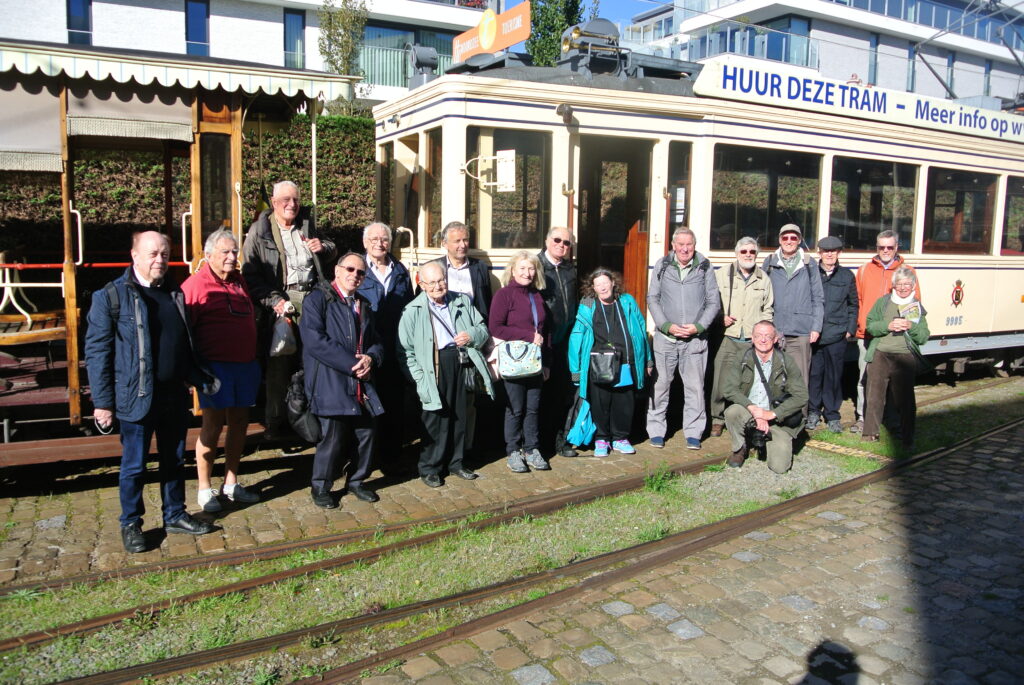 Our final day started with a train ride of two hours to De Panne, on the French border, across flat country with neat small towns and villages and, the further west we went, we were conscious of what was happening there between 1914 and 1918. De Panne station is an interchange – waiting for our train was the coastal tram and, just across the road, the hourly French bus to Dunkerque.
Today there was an extra service, arranged by our Flemish friends. A vintage tram and trailers had been organised for our party and the members of Vlaams Reizigersbond, to take us through woodland and past an amusement park (with its own tram stop) into the seaside resort of De Panne. Here we had an hour to visit a tram depot which is now a museum run by TTO Noordzee. This is an excellent example of a voluntary association, preserving the transport heritage of the 40-mile-long Belgian Coast, where steam trams started to operate in the 1880s and by the time of the First World War the route was electrified. For more information log on to www.ttonoordzeevzw.be
After a light lunch in De Panne, also watching modern trams going past the coffee shop, we headed along the coast, some as far as Ostende, others continuing to Blankenberge and even Knokke. Our return rail tickets were valid for us to return by train from any of these three towns – which is a thoughtful and customer-friendly facility. We were told that some parts of the coastal tramway operate on a 5-minute frequency at the height of the summer, when extra rolling stock and staff are brought in from Ghent and Antwerp. The 15-minute frequency in October, with views of resorts, dunes, polders and sea, was fine for us.
Our return on the Friday went smoothly, but we found it wise to allow enough time in Brussels, as the Eurostar was busy.
I had booked the tickets with one of the travel agencies which is a member of the Association of European Rail Agents. Find out more via www.aera.co.uk .
TG 16/10/2022