(Or: 1066 AND ALL THAT …)
In mid October I led a party of ten to Lower Normandy, staying in Caen. Seven of us went by train. The other three, partly because of where they lived, went as foot passengers by Brittany Ferries.
Travel by rail from London to Caen is quite simple – non-stop by Eurostar from London to Paris, one stop on the new RER Line E between the Gare du Nord and Gare St Lazare, then non-stop in just over two hours from Paris to Caen.
Using RER :Line E is in some ways comparable to using London's new Elizabeth Line, with a series of passages and escalators to reach the deep-level platforms.
Brittany Ferries, unlike some operators, still take foot passengers from Portsmouth to Ouistreham and Poole or Portsmouth to Cherbourg. From the ferry terminal to the nearest bus stop in Ouistreham is a 500-meter walk and not well signed. Indeed our member found that at night time it can also be quite hazardous. Since the closure of Cherbourg's Gare Maritime it is also a considerable walk from the ferry to the main rail station, but there are then fast electric trains from this major port to Paris via Caen.
For British visitors this region of France is important for two reasons: it is the land of Duke William (the Conqueror) who became king of England in 1066; and the D-Day landings took place here in 1944. Caen also boasts a modern tram network of 57 km, opened in 2019 to replace a less than successful pneumatic tyre rapid transit system.
Our modern Ibis Styles Hotel was on a bank of the River Orne, next to a tram stop with several shops and restaurants in a regenerated part of the city nearby and just 6 minutes' walk from the station. Public transport in Caen is reasonably priced and can be as little at 4 euro for a day ticket, valid on all trams and buses in the wider area, which takes in the coast. These are operated by the Twisto company, which also runs a free electric minibus around the city centre.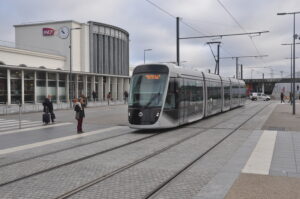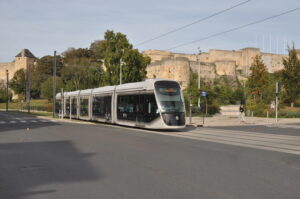 Our party used a combination of tram and foot to explore the city centre, including the magnificent Abbaye aux Hommes where William the Conqueror is buried; also visiting the well-stocked tourist information office and exploring the tram lines which link a university campus and shopping centre in the north to a transport interchange with a handy cafe, and a new suburb still under construction in the south. In the centre the tram routes combine to provide a very frequent service along the Avenue du 6 juin. This grand boulevard bisects the part of Caen which had to be completely rebuilt after the war; although it also contains some impressive churches which were skilfully restored.
In contrast is Bayeux, a small city largely untouched by wartime bombing and just 20 minutes west of Caen, served by mainline and regional trains. Dominated by a striking mediaeval cathedral, it is also home to a museum containing the Bayeux Tapestry – a pictorial account of the events of 1066 – plus a cinema with French and English versions of a film supplementing the tapestry.
Some of our members, by carefully studying the bus timetable, were also able to spend half a day visiting the famous Pegasus Bridge, with its impressive museum, and the coastal strip as far as Lion-sur-Mer, where some of the D-Day landings took place.
June next year will attract many visitors to Lower Normandy, with events marking the 80th anniversary of the 1944 Landings – but why not consider a spring or autumn visit?
Trevor Garrod
30/10/23